Mdina, Hagar Qim Temples & Blue Grotto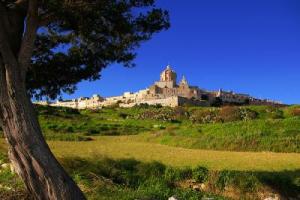 Tour Description
Our tour starts with a visit to the Medieval city of Mdina. Mdina is a unique city, built in the 9th century, it was built on a plateau in the centre of the island and from the high bastion walls you can admire stunning views of the island. This medieval city is a maze of narrow alleys and magnificent architecture, the only way to appreciate this special city is to stroll through it and admire the living history.

We continue with our tour to the UNESCO Hagar Qim temple site and visitor's centre. Set in a rural area this ancient temple is particularly interesting as it has the largest and heaviest megaliths out of all the temple sites around the Maltese Islands, some slabs weighing a staggering 20 tons. We will delve into the history of this incredible culture dating back to 3600BC.

Our last stop is at Wied iz-Zurrieq where you can go on a short boat ride out to the impressive Blue Grotto. The sun's rays refract through the arch in the water creating a turquoise blue effect. One can also admire the orange and purple algae which deleveloped just beneath the surface of the water all along the walls of the cave. At least 5 caves are visited on this 25-minute boat trip. (Boats operate weather permitting).

After this stop we return back to the hotel.
Prices & Details:
Prices are based on the group size and are not per person. The size of transport is provided based on the number of passengers in your party.

2023 Tour Prices
Includes private transport with driver and guiding services:
eur286 for 1 to 3 passengers
eur385 for 3 to 6 passengers
eur484 for 7 to 9 passengers
eur583 for 10 to 12 passengers
eur682 for 13 to 16 passengers
Contact me for a larger group of 17 to 50+

For 2024/25 rates and bookings send an enquiry via the How to Book/Make an Enquiry form below.

Not Included
Entrance fees - To save unnecessary time-wasting and queuing we can include your entrance fees. Allow eur6 per person for Hagar Qim Temples.

Blue Grotto - if you would like to do the Blue Grotto caves boat trip (recommended), allow eur10 per person.

How to Book
To book, click on How to Book/Make an Enquiry below, complete the form and send. I normally reply within 48 hours confirming my availability.

You can check Confirming, Payment & Cancellation Policy here